If you've been in the store, you've most likely seen our microphone testing setup. We know we put sound into the microphones, but how does it get into the computer? We have to take sound, turn it into a computer code, and then turn it back into sound! Audio interfaces, like the Scarlett Focusrite, do this for us.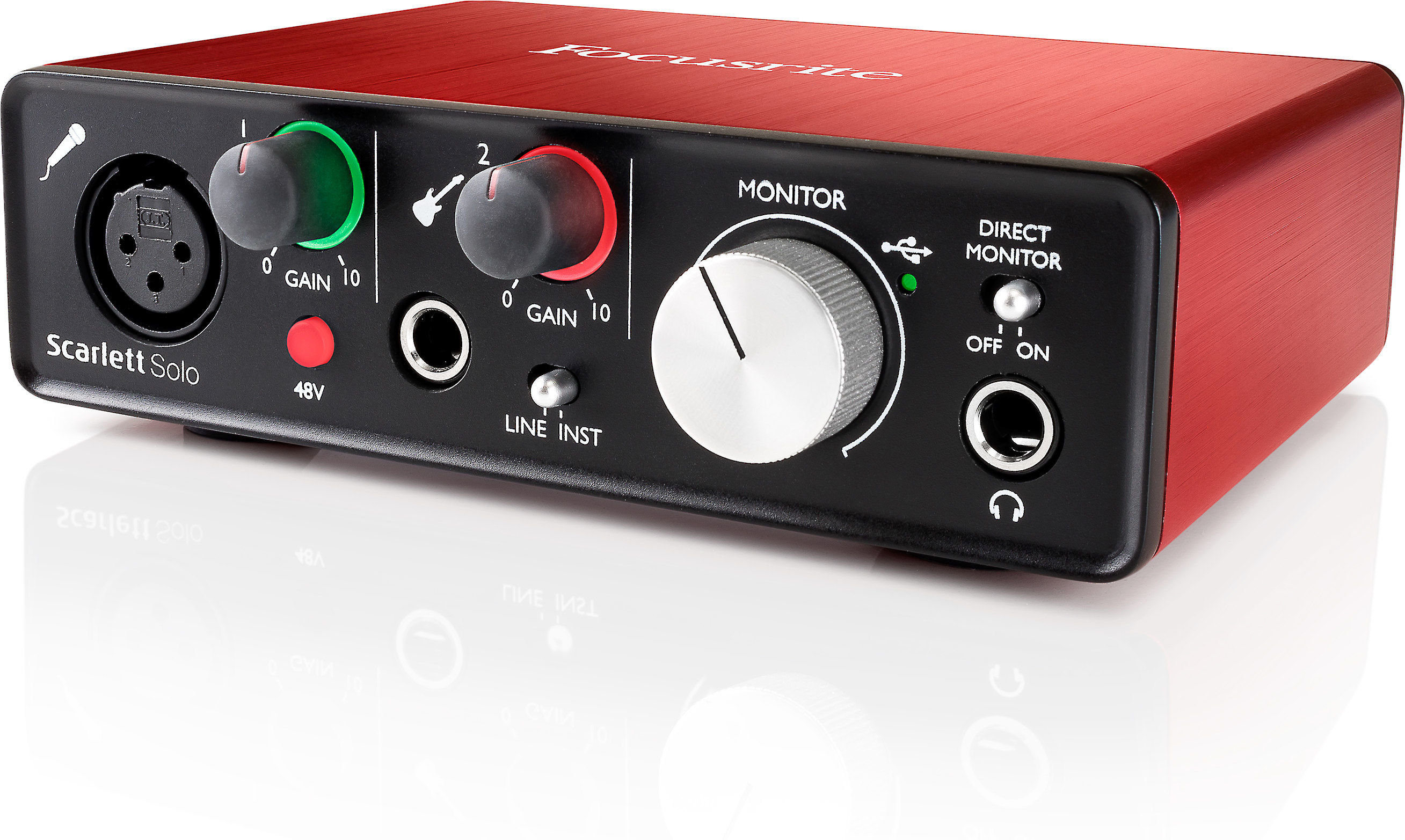 Of course many computers are equipped with microphones, and can do this transference of sound on board, but they don't have the best microphones or processes for the job. Having a separate component to do this allows for the job to be done much better, ending in a better end product for you.
The Scarlett Focusrite in a versatile product. We carry both the Solo and the 2i2 models. The solo has one 1/4″ input (for guitar) and one XLR input (for a microphone). The 2i2 has 2 stacked inputs, meaning they can be either 1/4″ OR XLR.  With a left and right output, as well as a direct USB connection, you can plug in almost anything, and go almost anywhere with that sound. A neat headphone output also allows you to listen to the sound on the interface, before sending it to speakers or your computer.
One notable aspect of the Focusrites are the negligible amount of latency when recording. Many interfaces have large amounts of latency, making on-spot recording hard, and adding extra work to match up tracks. The Focusrite has barely any, making your ears happy, recording easy, and editing simple. Plus, it's a a dang good price.Audio interfaces with similar performance standards are double (or more!) the price of the Focusrite. 
Overall the Focusrite line offers stellar performance, on-time recording, great processing, and all at an affordable price. Stop by the store TODAY to try one out. We'd love to sit down and show you how to use it, and make a fun on-the-spot song with you!